Our hybrid design provides Greater flexibility and data security.
dock'd is the only software solution for disability support providers that gives you the option to run your business any way you want. By utilising a hybrid configuration, you are not just restricted to being cloud-based, meaning you get to choose the way you operate, access and store your data and minimise downtime.
Our hybrid configuration gives you the freedom to:
dock'd can be installed on local servers, allowing you to maintain complete control and ownership over your data.
– Via Remote Desktop (RDP) with or without a VPN
– Via a browser
– Via the dock'd mobile APP
Using a combination of both on-premises and cloud based.
Regardless of your choice of software configuration, we provide all the hardware solutions you need to run dock'd and ensure that your business is backed up.
*check the packages for hardware inclusions
We believe in giving you the tools you need to make the most of dock'd. The NDIS and dock'd are dynamic, and updates are performed monthly to keep up with a changing market. To make sure you're always on top of what is going in the industry we provide monthly webinars.
They are broken up into three main parts:
Overview of Update Changes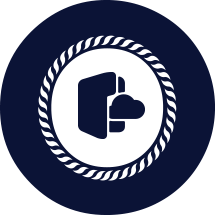 Future Planning and Features
*Requests are processed and approved at the discretion of the development team once R&D has been completed
The difference between Lasso Solutions and other software companies is their customer service. They genuinely care about helping resolve whatever software problem you are having and doing it quickly. Having tried three different providers that promised the world and then didn't deliver I knew I had struck gold when I found and engaged Lasso Solutions services. I'll never use anyone else.
Ariel Endean
Lasso Customer
The dock'd app/ software system is pretty amazing! The software system helps us to do our job more efficiently! Saves me a lot of time chasing staff for their progress notes! So easy to navigate and pretty straight forward app to use! Highly recommend!
Cherady Russell
Compliance Officer
dock'd has been an awesome experience from the minute we engaged the company in. The team has been truly an asset and helped us to streamline some many standalone systems in place. Furthermore when we have had an emergency, the team at dock'd has jumped in without delay and overcome issues. We highly recommend Dock'd to all other NDIS providers and encourage them to not delay and implement today!
Damien Ferguson
CEO - PHM Health Pty Ltd
dock'd is not only the best and easiest to use software but offer the best customer service I've come across. What's incredible is their willingness to add/adapt the program to provide a feature that solves a problem unique to your business. No other software company has ever shown me this level of flexibility. Lasso Solutions is genuinely committed to helping my business run well and be more profitable.
Marcus Nicholls
Lasso Customer